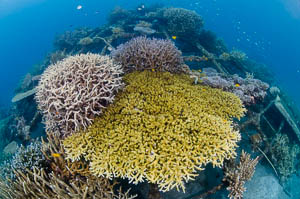 One of our more popular photo classes is a one or two day "Brush Up on the Basics" photo class aimed at folks who are experienced photographers but who don't get to shoot as often as he/she would like.
Our typical student for this photo class is the person who is spending a few days in Bali before embarking on a liveaboard or resort based trip somewhere in Indonesia and doesn't want to spend the first few days of his or her trip getting frustrated trying to remember the correct settings! We will start with a bit of refreshing theory to get the basic settings down and then accompany you for four dives over two days while helping you with composition and strobe placement underwater. Not only do we discuss underwater photography theory we will also help you review your images on a computer in order to find out exactly how things turn out and offer helpful critiquing.
Sample Itinerary for 2 day "Brush Up" underwater photo class
Day 1: Meet in the resort in the morning to discuss theory and make sure the camera is working properly before embarking on a dive.  After the dive, discuss more theory over lunch before heading out on the second dive.  The day finishes with a critiquing session after the second dive.
Day 2: Continue with theory and diving in the morning with two dives, lunch, and afternoon critiquing session.  This concludes this underwater photo class.
In order to maximize your time and learning, we suggest students stay on location at one of our beautiful partner resorts in the Tulamben or Amed  areas. Not only does this cut out the drive to and from south Bali each day, it will allow students the opportunity to do late afternoon dives and/or night dives as well as spend more time with the instructor discussing the fine art of photography.
Please contact us for more information about our partner resorts and package pricing for staying in one of our preferred resorts in Bali.