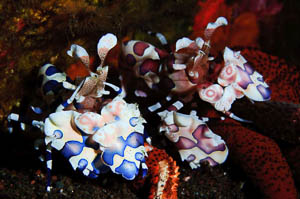 Underwater photographers really understand the benefit of having a private guide for all of their scuba diving adventures, especially on a longer diving safari tour.  As serious photographers ourselves, we know and understand that to get the right shot requires working with a dive guide who understands photographers as well as having a keen eye for critters.  At the Bali Academy of Underwater Photography and the Underwater Tribe, we pride ourselves on creating private scuba diving safari tours around the island of Bali visiting the best dive sites with only top notch dive guides.  All of our trips are created as a private diving tour, we don't amalgamate different divers together with the same dive guide as this will lower the enjoyment of everyone.  Therefore, we provide a private guide for all of our bookings with a maximum of 4 divers to one guide (we can also organize private guides every buddy team if desired for an added fee) and each booking will also have their own private vehicle in which to travel.  This is true for diving safaris as well as day trips (on certain Nusa Penida trips we may share a boat with other divers). Although we do offer a few different "package diving safaris", we prefer to work with you to create the perfect scuba diving safari itinerary for your needs; whether you prefer macro photography, wide angle photography, or a combination of both, we will work with you to create the perfect Bali diving holiday.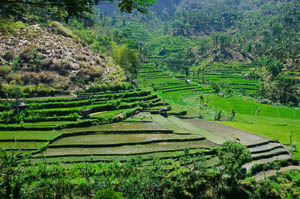 Bali is the gateway to Indonesia, many visitors stop in Bali on their way to other areas in the country and only get a brief introduction of the wonders of Bali. At the Underwater Tribe, we believe that Bali is a destination location all on its own and deserves more than just a 2 or 3 day stopover on the way to Raja Ampat or Komodo.  Therefore, we specialize in creating Bali diving safaris that can last from a couple of days to a week or longer, all custom created for each individual booking.
With a huge variety of different diving areas, Bali has a little something for everyone! Want to drift in a fast channel? We have that! Is muck and macro your dive of choice? Bali has some of the best in the world! Seeking a dose of beautiful hard coral gardens? We have it right here in Bali! We know all of the top locations as well as a few secret spots of our own and we are willing to work with you to come up with the perfect itinerary to suit your needs; from day trips to seven days or longer "safaris".  And of course the best way to experience all of this is with your own private guide!
Contact us for more information and a quote for your private diving safari or day diving trip.
Here are short descriptions of the areas that we can visit on diving safari tours: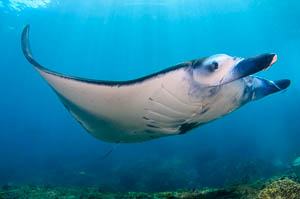 Nusa Penida – A set of three islands just 45 minutes from Sanur by speedboat, this area is home to some of the healthiest coral reefs found anywhere around Bali. With the right current running, this area is one of the fishiest in the area and is also where the "big" fish can be found: during the months of July – November the elusive Mola Mola can be found at several sites around the islands and Mantas are found here all year round! For an action packed day of diving adventure this is the place to go. Be prepared for cold water in the high season months of July – November as temperatures average around 23C here with temperatures of as low as 16C not being uncommon!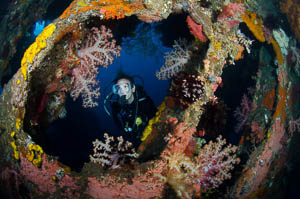 Tulamben and the Liberty Wreck – Home to one of the Bali's iconic site, the Liberty Wreck, Tulamben is a quiet village located on the north east coast of the island under the shadow of Mt. Agung. With a great mix of drops-offs, coral gardens, and black sand sites, the Tulamben area is one of the most photographically productive areas in Bali both on land as well as underwater. With three great sites just walking distance from the resorts, the diving here is convenient and easy, especially for night dives. For the more adventurous, a variety of pristine sites are just moments away via local boat. This area is perfect for both macro and wide angle photographic opportunities and is one of our preferred destinations for teaching photography.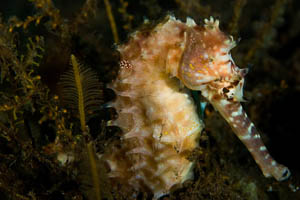 Seraya – Located just a few miles to the south of Tulamben, Seraya is one of the hottest muck diving locations in Bali. Located beside a dry riverbed, the black sand in the area is "chock a block" with interesting critters of the small variety. Frogfish, harlequin shrimp, ornate ghost pipefish, seahorses, and boxer crabs are just a few of the interesting creatures to be found in the area. There are several different dive sites in this strip of beach and all of them are very productive for folks looking to find weird and interesting critters. Seraya is always one of the favourites of our camera toting guests.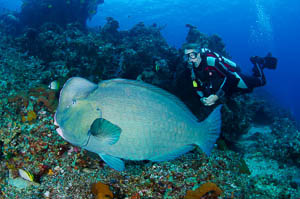 Amed – A little known secret in Bali diving, Amed is a tranquil village to the south of Tulamben known for clear water, drops offs, and some killer black sand diving. Amed is less crowded than some of the other areas in NE Bali and offers a relaxed atmosphere and is a great place to chill out for a few days while exploring the far from crowded dive spots. One of the top attractions is Café Garam with a great chance to find long arm octopus, stone fish, ghost pipefish, and frogfish. Other attractions in the area include the beautiful reef around the "Japanese Wreck" as well as high voltage Gili Selang.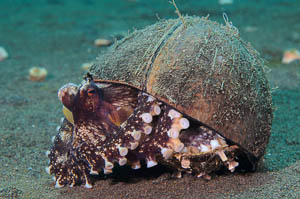 Puri Jati (PJs) – Puri Jati is located a few minutes west of the idyllic town of Lovina along the north coast of Bali midway between Menjangan Island and the large town of Singaraja. Situated beside a beautiful rice paddy field, the site is a long black sand slope that is famous for its bizarre inhabitants. Ambon scorpionfish, lionfish, pipefish, coconut octopus, and the amazing mimic octopus are just some of the residents that can be found here. As the average depth is less than 20 metres, long bottom times are the norm on this site, one of the most productive for macro photography nuts.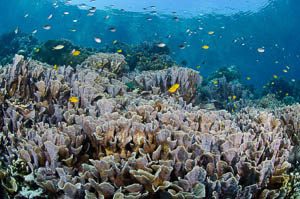 Menjangan Island and Pemuteran – Bali's original scuba diving hotspot, this small island in the north west of the island was the first marine protected area in the province. Surrounded by dramatic walls, beautiful hard corals, and some secret macro hotspots, Menjangan is the perfect location for two or three days of outstanding diving. With clear waters almost a guarantee, this is one of the top wide angle photography spots in Bali with a profusion of soft and hard corals all around the island.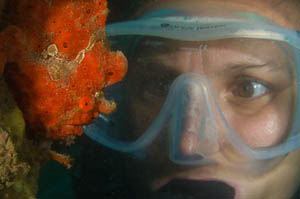 Secret Bay – Situated at the far north western tip of the island, Secret Bay is a shallow bay located beside the main ferry terminal to Java. With a maximum depth of around 12 meters, this sandy bottom cove is thriving with seagrass and is one of the most reliable places to spot seahorses in Bali. Unique to the area is the chance to encounter the rare Banggai cardinal fish, a species that was introduced here in years past. Be prepared for cold water though! The water temperatures at Secret Bay are typically a few degrees colder than Menjangan and average around 25C.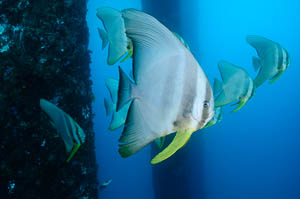 Padang Bai and Candidasa – Located only a 1 hour drive from Sanur, the reefs around Padang Bai and Candidasa offer a wide variety of both macro and wide angle photo opportunities.  Candidasa is home to several sites with good opportunities to find white tip sharks and possibly Mola mola during the right season, but the currents can be strong!  Padang Bai has some great critter and macro photography dives and is a great place to dive that is not far from Sanur, a perfect way to end a diving safari.