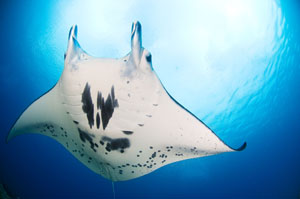 Our Photography Dive Travel page is the area where you will find the latest information for upcoming workshops, seminars, photo shootouts, and dive travel that the Underwater Tribe organizes each year.  We organize two different types of group travel: a) dedicated photo workshops in top resorts and b) liveaboard group trips throughout SE Asia and we have separated the two types of trips on the website to avoid confusion.  We have created pages for each upcoming Underwater Tribe trip and these can be found in the drop down list at the top of the page or listed below, current trips include Raja Ampat, Ambon, Lembeh Strait, the Banda Sea, and Komodo National Park  If you are interested in learning more about Underwater Photography and Video or traveling with like minded divers who enjoy diving with other photographers then you may want to keep this page bookmarked; we will be adding a lot of trips over the next few years as the Underwater Tribe expands.  Please keep in mind that when we are not leading trips to other areas, we are constantly running trips around our local island, Bali!  We would love if you could join the Underwater Tribe for a few days of diving in Bali either as a student or as someone who wants to dive with great guides who understand how to dive with photographers.  Our hallmarks are mature diving for photographers and experienced divers who are after a bit of pampering by diving in small groups with eagle eyed guides who take pride in their attention to detail.  Please check out the Underwater Tribe website for a more complete run down of what we offer for upcoming group dive travel and underwater photography workshops.
Current 2015/2016/2017 Underwater Photography Workshops and Dive Travel

Lembeh Strait Underwater Photography Workshop
18 – 25 July 2015, Lembeh Strait, Indonesia

Following on the success of our UWT/NAD photo workshops in 2013 and 2014, we will be hosting a 7 night/17 dive package at the best photo resort in the Lembeh Strait, NAD Lembeh Resort.  Once again, we will be limiting the number of divers who will be able to attend this workshop in order to maximize everyone's personal time with the instructors both underwater and in the resort.  One of the highlights of an Underwater Tribe workshop is that the instructors don't bring their cameras with them underwater, instead we spend time one on one with each participant helping them to compose their photos, aim their strobes, and anything else that helps them make the most of their time underwater.
Pricing information coming soon:  18 – 25 July 2015 UWT/NAD Underwater Photography Workshop
Komodo Liveaboard Trip with the Underwater Tribe on the MV Ambai
25 Sept to 4 Oct 2015, Komodo National Park

Komodo is one of our favourite diving destinations in Indonesia as it includes such a dense and varied mix of schooling fish, healthy coral, and lots of invertebrates for macro afficiondos. Highlights of the itinerary will include Cannibal Rock and interacting with Komodo dragons in Horseshoe Bay, the Mantas of Manta Alley and other manta sites, black sand diving at Sangeang Volcano, and diving on the rich coral reefs that have made Komodo famous. For photographers, the Komodo itinerary offers the perfect mix of both macro and wide-angle photo opportunities with a plethora of muck and critter diving as well as healthy coral gardens and a large manta population. Late September and early October is one of the best times to dive in Komodo as many of the other liveaboards leave the area for Raja Ampat , meaning there will be a lot less boats in the area!
€ 2120 Euro per person, more information at: Underwater Tribe Komodo Liveaboard 2015
Raja Ampat on the Mermaid II with the Underwater Tribe

19-27 March 2017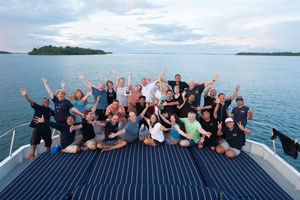 We had such an incredible trip in Raja Ampat on the Mermaid II in March 2015 that we have already decided to do it all again in 2017! Just like we did for our 2015 trip, we have perused the moon calendar to be sure that we have chosen the best month and the best time to visit this amazing diving location. The dates we have chosen are 19-27 March 2017 for an 8 night trip that will be departing from and returning to the city of Sorong. One of the best attractions of the Mermaid II is the fact that it's a steel hulled boat complete with two powerful engines capable of moving us between locations quickly, efficiently, and quietly!
€ 3200 Euro per person, more information at: Underwater Tribe Raja Ampat 2017